There is a classic humor sketch in Sweden where a guy goes to the newsstand to buy an evening paper. We have two nation-wide evening tabloids to choose from, and they guy spends forever arguing about which one to choose, slowly driving the newsstand owner crazy.
So here I am with two excellent propellers to choose from. I am sure both will work well and they have about the same price. And I find myself in a similar situation. If I had to make the decision in a hurry I would just flip a mental coin and take one. But since there is plenty of time I thought it could be fun to see what You, dear reader, would choose? Or what experiences you may have of these…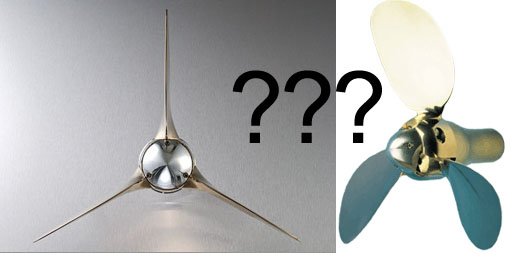 To the left is the Maxprop Fast VP 3-blade feathering propeller. To the right is the Flex-o-Fold Standard 3-blade folding.
The engine is a 75hp/3200rpm diesel with a 2.32 reduction saildrive.