The Story Behind the Journeyman 60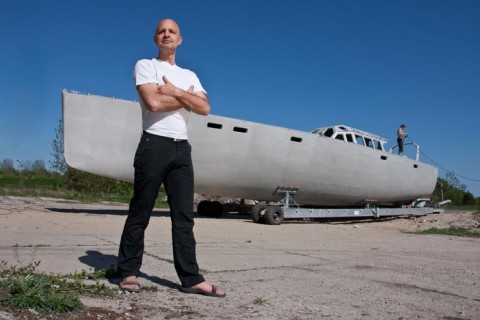 The Journeyman 60 yacht is designed by Jesper Weissglas. Every solution, every detail and every choice of materials is based on experience from over 30 000 nautical miles of adventure charter sailing in rough conditions, including the Across Greenland expedition with renowned Swedish adventurer Ola Skinnarmo. Journeyman is the result of over 5 years of design work. Jesper is living his dream and his vision, but he has also had to deal with harsh economic realities and numbing obstacles – often no bigger than a single aluminum bolt. The process has involved some of Sweden's sharpest minds on aeronautical and structural design – mostly without any other reward but the thrill of being part of a project beyond the ordinary. The underwater hull is based on research by
Gabriel Heyman
, and the appendages are designed in cooperation with
Jens Österlund
. The first yacht was built at the
Alunaut Shipyard
on Saaremaa in Estonia. The experienced team at the yard
– accustomed to building performance workboats – put all their skills and raw enthusiasm into building Sweden's first "extreme express cruiser". You can download a presentation leaflet with all the facts & figures here:
journeyman60_leaflet.pdf
Why a new design?
Standard cruising yachts aren't designed for rough adventures. As long as the weather is nice everything is fine. The crew is happy and life is comfortable. Then, as temperature drops and the low pressures start lining up, the drawbacks of any modern cruiser (with the words "luxurious interior" written in a prominent place in the sales brochure) become apparent. When it's 5°C, the rain is pouring and you're beating to windward against a strong gale, you don't care much for the luxurious interior. You do, however, care about the fact that the toilet can only be flushed on the starboard tack. Especially when you've been on the port tack for 14 hours. Or three days. You care about there being nowhere to hang all your wet gear. Well, maybe you don't, if the deck ventilators are so poorly designed that large waves washing over turn the salon into a shower anyway. And the uninsulated hull contributes with a little condensation rain on top of that. In fact, the hull condensation water might the only drinkable water you get, since the water-maker doesn't work under speed because of the air bubbles in the inlet water. This list just goes on and on. And with every new item the morale of the crew sinks lower. So, a great adventure charter journey needs a yacht designed for it. A yacht that takes care of the crew instead of having the crew take care of the yacht. A Journeyman.